ICMPC15-ESCOM10
23-28 July 2018
Planning document

Richard Parncutt (Uni Graz)

with assistance from Renee Timmers (University of Sheffield), Emery Schubert (UNSW Sydney), Christine Beckett (Concordia, Montreal), Lukas Auer and Daniel Reisinger (Uni Graz), the ICMPC Executive Committee chaired by Steve Demorest (Northwestern University, Illinois), and the ESCOM Executive Council. Special thanks to Mayumi Adachi, Eugenia Costa-Giomi, Scott Lipscomb, Bruce Pennycook, Bill Thompson, and Theodore Zantos for feedback that inspired improvements to this text, and to many colleagues who gave feedback on earlier texts.

This document is changed regularly in response to feedback from colleagues. Responsibility for the content lies entirely with the main author. Please send feedback to parncutt at uni hyphen graz dot at. Last update: 23 March 2017

Technical guidelines
General: docx
YouTube: docx
OBS: docx

GAPS
Call for papers: docx
Planning: docx
Technical guidelines: docx






Abstract



ICMPC15-ESCOM10 will take place from 23 to 28 July 2018. For the first time, the conference will be distributed across hubs on different continents. All presentations at all hubs will be live-streamed to an internet cloud and viewed at at least one other hub, either in real time as a live stream, or delayed as a streamed video. All participants will be free to choose which hub they attend and their mode of transport. The relative size of the hubs will depend on the number of accepted abstracts at each. Each hub will have a qualified, experienced organizer with good relevant publications, fast internet, and the usual facilities. Abstract review, the main 24-hour conference program, meetings of all hubs, and technical support will be organized centrally in Graz, Austria. Some aspects of local hub programs (virtual presentations, workshops, demonstrations, symposia) will be organized locally. Throughout the event, participants at all hubs will choose between parallel live, virtual (real-time), and recorded (delayed) presentations. All live and virtual presentations will be to expert audiences. Discussions will be immediately summarized in a comment feed, enabling a global discussion. Talks will be prepared in Powerpoint and livestreamed with a talking head in the corner (using Open Broadcaster Software OBS and unlisted YouTube livestreams), then saved confidentially (as unlisted Youtube videos). Participants will access conference materials within a password-protected platform (Moodle). The technology will be supported by students in music technology or similar, both at each hub and centrally (24-hour support), and will be tested at a small international pilot (GAPS) in April 2017. The total cost of participation (registration, travel, accommodation) will be lower than previous ICMPCs and ESCOM triennials. If there are additional hubs in new regions, the participant pool will be more globally balanced and culturally diverse than previous conferences, reducing western bias. In this case, the total cost of participation will be drastically reduced for colleagues in less rich countries, enabling many to participate for the first time. Benefits such as socio-economic inclusion, cultural diversity, and climate friendliness (per participant) will increase as the number of hubs increases.



Introduction



The International Conference on Music Perception and Cognition (ICMPC) takes place every two years in different parts of the world. The 15th conference in the series is planned for 23-28 July 2018. Continuing a 6-year cycle, the conference will be combined with the 10th triennial conference of the European Society for the Cognitive Sciences of Music (ESCOM) - hence ICMPC15-ESCOM10. The purpose of this page is to introduce the main elements of our planning.

Following the success of previous conferences in the series, ICMPC15-ESCOM10 will be an experiment to try out promising new approaches to conference format. The conference will be distributed across a few or several hubs (previously called component conferences or comcons). All presentations from all hubs will be live-streamed to an internet cloud, and all cloud contents will be available to all hubs, either as live streams or (with a time delay) as streamed videos. Hubs will include Graz, Montreal and Sydney. At abstract submission, authors will be asked which hub they plan to attend.

To our knowledge, ICMPC15-ESCOM10 (or the pilot conference GAPS) will be the first semi-virtual academic conference in history. Since mid 2016, the organizer has been in contact with many colleagues in several disciplines, including those who have written about the carbon footprint of conferences and considered political strategies to reduce it. None of those colleagues was aware of a similar event. Any reader of this document who knows of such a conference is asked to contact us immediately so that this claim can be moderated and we can exchange ideas with the organizers.



Aims





General



The aim of the ICMPC and ESCOM triennial series is not officially formulated. Ultimately, the aim is the same as that of journals such as

Music Perception

and

Musicae Scientiae

and societies such as SMPC and ESCOM - to promote the quality, quantity and relevance of research in the academic discipline of music perception and cognition (or music psychology). Our conferences, journals and societies approach this aim using different methods. The main methods of conferences such as the ICMPC and ESCOM triennial are talks, posters, and face-to-face communication.

ICMPC15-ESCOM10 aims to improve on previous ICMPCs and ESCOM triennials in terms of global outreach, social inclusion, cultural diversity, documentation, and techno- and climate-friendliness. These changes will improve our research output as well as our compliance with psychological ethics guidelines, according to which we should be careful not to discriminate against or harm others in the course of our research.

Unlike a fully virtual conference, in which face-to-face communication is abandoned, ICMPC15-ESCOM10 will strike a new balance between face-to-face and virtual communication. Relative to the overarching aim of promoting the quality, quantity and relevance of research in our discipline, the advantage of a larger and more culturally diverse participant pool will be greater than the disadvantage of less face-to-face communication.



Specific aims





Global outreach.

Most participants at most previous ICMPCs were from the same continent. At the last ICMPC-ESCOM in 2012, almost 2/3 of participants were from Europe and 10% from North America. ICMPC15-ESCOM10 will for the first time aim for a global conference with a balance of contributions from different continents. If hubs are included in non-Western and non-rich regions, many colleagues will be able to participate for the first time.



Socio-economic inclusion (equity).

Inclusion in the ICMPC or ESCOM triennial program has traditionally depended on the ability to finance flights, registration fees, and hotel bills that are typical of rich countries. But inclusion should mainly depend on academic quality as determined by peer review - not income or wealth. Participation in ICMPC15-ESCOM10 will be considerably cheaper for participants in rich countries, and much cheaper for those participants from non-rich countries who have the opportunity to travel to a local or regional hub. In that case, hundreds of colleagues who could not otherwise have afforded the conference will participate for the first time.



Non-discrimination.

In the past, the total cost of travel, registration and accommodation has prevented hundreds of music psychologists from attending the ICMPC or the ESCOM triennial. At ICMPC15-ESCOM10, this unintentional form of discrimination will be significantly reduced. All participants will be treated equally and enjoy a similarly rich conference experience. All will be free to choose which hub to attend; they will do so at abstract submission and confirm at registration. There will be no restriction on mode of travel. The relative size of hubs will be determined by the number of accepted abstracts at each. Hubs will be equal in the sense that a comparable program of live and virtual presentations will be available at each, but unequal in the sense that some hubs will attract more participants than others and one central hub will be responsible for the whole conference. Graz will carry out the entire abstract review procedure, create the program, offer technical support, and make central decisions that affect all hubs.

Cultural diversity. Research in music perception and cognition has always been biased toward Western music. If hubs are included in non-rich regions, ICMPC15-ESCOM10 will move toward a more global concept and more representative research by including more non-Western researchers, consistent with trends in other areas of music research. There will also be limited opportunities for using languages other than English, as is common in many international humanities conferences.



Disability.

There will be a limited number of timeslots for people who are unable to travel to a hub due to disability. We will present their pre-recorded videos and ask for them to be submitted well in advance to leave time for possible revisions.



Documentation.

Presentations at ICMPCs and ESCOM triennials typically include recently added information that can be found in neither the abstract nor the proceedings. Important points are made during discussions that are not documented. ICMPC15-ESCOM10 will solve both problems by documenting all presentations as videos and all discussions as transcribed text for later use and analysis.



Technology.

Opportunities for communication via the internet have improved rapidly in the past two decades. Every year, new ideas are implemented. ICMPC15-ESCOM10 will take advantage of this development, choosing current software and hardware options that are most suitable for our research purposes.



Climate.

Emissions from flying will be significantly reduced. Climate scientists agree that time is running out. The next few years will be critical for reducing the magnitude of the catastrophe that scientists predict awaits our children toward the end of this century. A typical intercontinental return flight burns about 1/3 of a ton of carbon per economy-class passenger. Considering other aircraft emissions, that is effectively roughly a ton of carbon per passenger, or 4 tons of CO2 - comparable with driving a regular car in a regular way for a year. A typical academic may burn more carbon than the average citizen of a rich country and much more than the global average. No-one disputes that the right to life of future people is more important than the right of international academics to meet in person - the question is how best to respond to this challenge. further info

Considering these aims, the main stakeholders in this project are:

hundreds of music psychologists who want to promote the quality of music-psychological research at the highest level;
hundreds of (potential) music psychologists in non-rich countries who in the past have been unintentionally excluded from the ICMPC or ESCOM triennial by the total price tag;
a billion children in developing countries whose life expectancy is being reduced by global warming, and all children everywhere, given that in coming decades people everywhere will be affected.
The importance of face-to-face interaction

All researchers value the experience of personal contact with international colleagues that only a big international conference can provide. On the one hand, we meet old friends and have a great time. This is one of the "perks of the job" that make an academic career worthwhile. For most music psychologists, big international conferences belong to our most valued life memories. On the other hand, personal contact is important for research creativity. It helps us to come up with good ideas and get our work done.

For many, this is the most important point of all, rendering other points relatively unimportant. But there are several reasons why we should move toward a new balance between face-to-face and virtual interaction at international conferences:

Many of us have experienced fully virtual conferences, and were disappointed by them. But we have little experience of the semi-virtual approach of this proposal, in which every talk is to a live audience, and virtual presentations also have an audience that discusses the content. We need to try it out.
This proposal would increase the number of colleagues with whom we can communicate, making it easier to find people with specific skills and interests. The new colleagues will be those who would otherwise not have been able to afford registration plus travel plus hotel. In the long run, these colleagues will bring diverse new inputs to our discipline. We also need to close the equity gap. Anyone who is willing and able to contribute to our discipline should have the opportunity to do so.
The music psychology community has been focusing too much on Western music and too often ignoring other musics, merely because of the relative absence of researchers from non-western cultures. This problem is more acute in some research areas than others, e.g. the origin and functions of "music" (or "motherese"), the question of "musical universals" and so on. But the problem is more pervasive than that. For example, what exactly is meant by "rhythm perception" when rhythmic styles are globally so diverse and people from different cultures perceive the same acoustic signals so differently? We need to work together with researchers from diverse cultures, taking advantage of their deep insight into their own culture, and not merely observe other cultures from our perspective.
Current research in climate science suggests that global warming will turn out to be the biggest problem humanity ever faced. Many academics (such as the author of this document) have been doubling their carbon footprint (or worse) by flying to conferences. Our children will have to deal with global warming after we die. If we academics significantly reduce our carbon footprint, we will be in a stronger position to insist that others do the same.
Given these partially overlapping and conflicting issues, the current proposal is a compromise. Today's communication technologies may be improving, but they cannot replace the experience of physical presence. In the foreseeable future at least, face-to-face interaction will always play an important role in our research creativity. The plan for ICMPC15-ESCOM10 is therefore to maximize personal contact while at the same time approaching all of the above goals. The result could be called

semi-virtual

: for the average participant, the conference experience will be about half live and half virtual. Many participants will miss personal contact with colleagues from other continents, but the advantages of the new format will outweigh the disadvantages.



The difference between a cloudcast and a teleconference



ICMPC15-ESCOM10 will be music psychology's first global cloudcast conference. Each hub will have a regular local program of presentations, all of which will be live-streamed to a global internet cloud. Each hub will also take other presentations from the cloud and present them in different lecture rooms, either in real time (live stream) or with a delay (streamed video).

Cloudcasting is not the same as teleconferencing. In a multihub cloudcast conference, each hub has only one connection to worry about - that between it and the cloud, in both directions (sending and receiving). In a multihub teleconference, each hub must connect to each other hub.

Each hub at ICMPC15-ESCOM10 will connect independently to the cloud, so a technical problem in one hub will not directly affect any other hub. The program will also include a few conventional teleconferences (meetings) in which multiple hubs interact directly (e.g. using WebEx).

Example: Let's call the hubs A, B, C etc. When Hub A live-streams a talk to the cloud, and the stream is received by Hubs B and F, Hub A initially doesn't receive any feedback from Hub B or Hub F - nor does it need to. (Later, comments will appear in the comment stream, but that is another issue.) It is nice to know that those people are watching, and YouTube will automatically indicate the number of connections. But in this scenario Hub A is only responsible for ensuring that the cloud is picking up the live-stream. It is not responsible for ensuring that Hubs B and F receive the stream - that is their responsibility, and it will also be a task for our 24-hour technical support.

This clear division of responsibilities make the conference easier to organise and run. In the unlikely event that a stream is not available in the cloud when a hub looks for it, the hub will select another stream (either a live stream or video) according to a previously determined backup procedure.



Software



YouTube

YouTube is a promising cloudcasting option, offering live streaming, a large bandwidth, dedicated channels (e.g. called "ICMPC15-ESCOM10"), and the opportunity to comment during and after both streams and videos. It is also user-friendly and reliable. We are unaware of a situation in which YouTube has ever stopped working or in which it has not been possible to live-stream to or from YouTube. Unfortunately, YouTube is currently unavailable in China, but we know of no alternative with similar features.

YouTube presentations will be unlisted. The general public will not be able to find them without knowing the URL, which will be available in Moodle (see below) for registered participants only.

At the end of each stream transmission, YouTube will automatically convert the streams to a video. During or after the conference, the start of the video will be cut so the video begins with the start of the talk itself (the chair's introduction may be cut).

We probably will not use the YouTube comment facility. Instead, comments on streams and corresponding videos will appear in the Moodle comment forum.

Powerpoint

We will recommend that speakers use Powerpoint. Pdf will also be possible, since anything that is displayed on the local computer monitor will also be streamed.

We will use standard images with side lengths in the ratio 4:3, and avoid wide screens. We will provide a Powerpoint template with a space on the lower right side of each slide that must be kept free for the talking head. we are yet to decide between the following two options.

Another option might be to ensure that all hubs have wide-screen data projectors in every room (Rooms 1, 2 and 3). The bars in the wide screen on the left and right of the standard 4:3 image would then be used for (i) information about the talk that always remains visible such as authors and title, and (ii) the talking head.



Broadcasting



OBS (Open Broadcast Software) will be installed in all Room/s 1. It will have three functions: (i) to combine the talking head and the Powerpoint file (in Option 2 above: also text), (ii) to mix the sound of the speaker's voice with any sound files that are played from a local hard disc, and (iii) to upload the stream to the YoutTube cloud.



Internet



There will be public website with the usual information. Shortly before the start of the conference, this will include the 24-hour program.



Moodle



Apart from the conference homepage, we will password-protect all materials in Moodle. This teaching platform is normally used internally (within an institution) but we will use it externally (globally). Active participants will be like teachers, passive participants like students. We will use Moodle discussion forums instead of YouTube comments.

Each talk will be analogous to a course unit in Moodle with its own page of materials. Each Moodle page will feature title, authors, abstract, separate URLs to the live stream and the saved video, discussion forum (comment feed), and any other information or materials such as an optional proceedings contribution, optional skype address or similar, sound or video files, or internet links.

Participants will be asked to observe privacy guidelines, but organizers cannot guarantee that they will do so, and will ultimately be powerless to prevent leakage into the internet (see "legal issues" below). All materials should therefore be presented in a publicly appropriate fashion.



Hubs



Each hub will have a keynote speaker. The keynote will be presented at all hubs without parallel competition from other events. Depending on time differences it will be viewed either in real time or with a few hours delay. Keynote speakers will be chosen by negotiation between Graz and other hubs and we are preparing a list of recommendations.

For each hub, we will approach the local or regional music psychology society for comments on this proposal; suggestions about how best to proceed; information about the unique local situation; corresponding needs and requests; and if possible official collaboration. In this way, the conference aims to make a positive and lasting contribution to the music psychology research culture in the region of each hub.

The above aims can be achieved by distributing the conference across hubs on different continents. Currently, three hubs are planned: Graz, Sydney and Montreal. The conference can work with three hubs, but every additional hub will bring us closer to achieving the listed aims. We are considering additional hubs in South America, India, and NE Asia. These additional hubs would officially be part of ESCOM10 only, but in practice they would have the same status as the other hubs.

The use of an internet "cloud" means that these "ESCOM hubs" would not introduce additional logistic problems or increase the chance of breakdown (see below "Workload for the central organisation"). Each hub organizer would be responsible for the success of their own hub, and the conference as a whole would succeed independently of foreseeable technical problems at individual hubs. Each hub would meet standard criteria such as qualification of organizer, speed of internet connection, and availability of the usual facilities.

We anticipate that the rejection rate for abstracts submitted from non-rich or non-Western countries will be higher due to lack of infrastructure and experience, and problems with the English language. We would address this problem in several ways:

People who have never presented at an ICMPC or ESCOM triennial before (including PhD students from any country) would be invited and encouraged to send us an abstract draft several weeks in advance. We would send brief, obligation-free suggestions for improving it before submission.
The abstract review procedure will be double blind: Reviewers will not know the identity or affiliation of authors and vice-versa.
Colleagues from non-western, non-rich, or non-English-speaking regions would be proportionally represented in the abstract review committee.
The minimum number of accepted abstracts at ESCOM hubs might be relatively low, say 10. The event might last for only one day, with choices between live, virtual and delayed presentations throughout the day (see guidelines for hubs below). A 2- day or 3-day program is also possible. Decisions of this kind will not affect the other hubs, which will continue to choose what they want for their local virtual programs from the 24-hour program.

Presentation rooms with different functions



Each hub will have a number of regular conference presentation rooms with different functions as follows. Each room will be a regular lecture room with seating for say 20-100 people. Participants will be free to choose among parallel presentations in different rooms. The more colleagues present at a given hub, the more rooms it will need.

Room 1, from which all live presentations are streamed. If necessary, the room can be split into two or more rooms for parallel sessions (1a, 1b etc.).
Room 2 for virtual streamed presentations, some in real time (live stream) and some delayed as videos. Room 2 may be split into Room 2a for real-time presentations and Room 2b for delayed presentations, and again further subdivision is possible.
Room 3 for demonstrations and workshops (during the first half of the conference) and symposia (second half).

The format of demonstrations and workshops will be similar to previous conferences, except for the additional possibility of using meeting software to coordinate activities at selected hubs, depending on time differences.
Symposia will be locally presented, thematically organized sessions. Each symposium will begin with an introductory live presentation by the symposium organiser. He or she will then present 2-3 videos from other hubs, each one addressing different aspects of the symposium theme, chairing the discussion after each one. (Exception: One of these videos - no more - can be replaced by a local talk that has been accepted in the peer-review procedure.) The conference program will be organised such that the talks from which symposium organisers take material will have been presented at other hubs during the first half of the conference. No virtual presentation will be repeated at the same hub.
Room 4 for skyping or private use.

All rooms will be adjacent to the central meeting area for registration, coffee and poster presentations. Rooms 1-3 will each need a chair and a secretary each (selected from active participants in the usual way) and two student assistants, technical and general (exception: Room 3 does not need a chair, because the organizer of the demonstration, workshop or symposium will also function as chair).

Presentation content

Talks

The structure and content of talks will be the same as regular conferences in which people show Powerpoint slides or similar, improvise their spoken delivery, and occasionally insert sound or video demonstrations.

Questions

Questions following each talk will be first local then remote. Local questions will be no different from regular conferences, except that a secretary will type the main points into a globally visible comment feed on the talk's Moodle page. To counteract gender stereotypes, most chairs will be female and most secretaries male.

During the first 5 minutes of the question period (10 minutes for keynotes), the live stream will be turned off. There will be separate discussions at participating hubs. Interhub communication will be by comment feed only.

The live stream will then be turned on again. The chair will select remote questions from the comment feed (e.g. using a mobile phone) and ask them acoustically. The speaker will answer acoustically, in the usual way. Both live and virtual audiences will see and hear these questions and answers.

At all times, all participants will have the additional option of entering comments and questions into the comment feed directly using their mobile phones. There will be no skype-style interaction between speakers and remote audiences (this will happen during meetings but not during talks). All participants will be asked to bring mobile phones, laptops or tablets to enable them to read and contribute to comment feeds.

When virtual presentations are delayed and presented as videos, discussions will follow in a similar way. In this case, the audience will see the previous comment stream. Their secretary will add to it, and they will also have the option of adding to it directly.

After the conference, the comment feeds will become a new research resource. Authors especially will use them to improve their work before publication.



Timing



Regular timeslots will be 30 minutes. By comparison to previous ICMPCs and ESCOM triennials, there will be less time for the talk itself (since audiences prefer virtual presentations to be shorter) and more time for questions (local followed by remote). A possible structure: chair's introduction ending 1 or at the latest 2 minutes after the advertised starting time, 15 minutes for the talk, 5 for local questions, 5 for remote questions, and 3 for changing rooms.

Keynotes will be twice as long as regular talks and have similar structure. Depending on the number of accepted submissions, we might split regular talks into 30- and 15- minute timeslots, with presentations in 15-minute slots in Pechakucha format (20 slides at 20 seconds each). That's 7 minutes for the talk and 5 for questions.

Timing is crucial. Hub organisers will explain at the opening ceremony that everything must run exactly on time, plus or minute one minute. To avoid delays, live transmissions will be cued in advance (YouTube allows for it) and connections will be established well before the start of each session. If the start of a talk is delayed for more than two minutes, both the home and the remote hub(s) will automatically switch to a previously determined backup presentation and the organisers will try to find a later timeslot for the delayed talk. A few timeslots will be kept free in the program for this purpose.



Language



The ICMPC and ESCOM triennial have traditionally been entirely in English. That facilitates communication, but it also gives English speakers an unfair advantage, e.g. more power to push discussions in certain directions. The conference also misses out on the richness of linguistic diversity and corresponding alternative viewpoints and ways of thinking. There is no easy solution, but ICMPC15-ESCOM10 will experiment with a compromise. It will be possible to present in a different language provided the Powerpoint or similar is entirely in English and an interpreter translates the presentation sentence by sentence. This will reduce the effective presentation time by half, and unfortunately bilingual presenters might also expect a smaller audience. Questions during discussions may be answered in a foreign language provided there is sentence-by-sentence translation. The interpreter must be a native speaker of English with a Bachelor's degree in a relevant discipline. The speaker must recruit the interpreter and cover any costs, demonstrate the interpreter's relevant qualifications to the conference organisation, and give the translator the abstract, ppt draft, and a list of standard technical translations for study. The speaker is asked to organize a discussion at least a week before the presentation and to ensure that the translator could give the talk alone if necessary.



Peer review



Before submitting an abstract, the first author will be asked to create an account at EasyChair or to login if an account already exists. S/he will then be redirected Google Forms (which is part of Google Docs) and asked the following questions:

What are your main areas of expertise? Please select three from a list of 20 areas.
What is your most important publication that is relevant for this conference, in your opinion? Please give a standard reference-list entry.
Would you agree to reviewing ten submitted abstracts if asked? Reviewers will be asked to give a grade for each abstract and briefly explain it.
For each abstract submission:

What three areas are most relevant for the abstract? (Select from the same list of 20 areas).

At which hub would you like this paper to be presented? (Note that a paper may be presented by a co-author at a different hub.) At which hubs would you like your talk to be presented virtually, in order of preference?
The review procedure will be double blind. We will assign reviewers to abstracts by matching their areas of expertise with the areas addressed by abstracts. Reviewers and authors will always be in different countries. These assignments will be entered manually into a conference management tool such as EasyChair which will then manage communication with reviewers.

The program

Throughout much of the conference, each hub will simultaneously offer presentation in Rooms 1 (live), Rooms 2 (virtual), and Room 3 (workshops, demonstrations, symposia). During these parallel sessions, local participants will choose which session to attend and move between rooms during short breaks in the usual way. The program for Rooms 1 will be organized centrally in Graz; for Rooms 2 and 3, at each hub independently, in a separate process.

If we consider only Room(s) 1 in all hubs, the 24-hour global program will be similar to a regular conference program with parallel sessions, except that times will be shown in Coordinated Universal Time (UTC), which is the same as Greenwich Mean Time (GMT). Participants will get used to adding or subtracting the time difference at their hub. Here is a rough sketch of what part of the global program might look like:


| | | | |
| --- | --- | --- | --- |
| UTC | Montreal (-4 hrs) | Graz (+2 hours) | Sydney (+10 hours) |
| 0630 | | Breakfast | Tea |
| 0700 | | Opening ceremony | Opening ceremony |
| 0730 | | Keynote 1, Author, Title | (Keynote from Graz) |
| 0830 | | Coffee | Chat |
| 0900 | | Talk1, Authors, Title | Talk2, Authors, Title |
| 0930 | | Talk3, Authors, Title | Talk4, Authors, Title |
| 1000 | | Talk5, Authors, Title | Talk6, Authors, Title |
| 1030 | | Lunch | Drinks |

This table will show only live talks in Rooms 1 at each hub. Depending on the number of accepted abstracts, each hub may have more than one live parallel session in Room 1 (called Room 1a, 1b, 1c etc.). For example, at certain times there might be 3 parallel live sessions in Graz, 2 in Montreal, and 1 in Sydney.

Breaks (also called warmup, cooldown, breakfast, tea, coffee, chat, lunch, drinks, cocktails and so on) are opportunities for "open skyping" in which people can meet electronically in different relaxed social settings. Colleagues will communicate toward the East in the morning and toward the West in the evening, either meeting someone at random or making an appointment. Computers for skyping will be available in part of the coffee area. Breaks will happen just before, near the middle of, and just after halfdays and will be aligned across time zones. We might offer two or three software options including e.g. https://chatstep.com/ for smartphones or PCs. Breaks will be organized and supported by student assistants.

In the above sketch, the Montreal column is blank because of course the hub will be inactive between 3am and 6am local time. When the day starts in Montreal a few hours later, participants will have their own program of events in the three room types. Their virtual program in Room 2a will include a selection of what they missed in the previous night. Their live virtual presentations in Room 2a will show presentations in real time from another hub such as Sydney.

Here is a tentative procedure for building up the program:

A list of accepted submissions in different categories (talks, posters, symposia, workshops, demonstrations) will be made available to organizers and first authors.
The live programs in Rooms 1 at all hubs (like the above table) will be drafted in Graz, ensuring that materials required for symposia are presented in the first half of the conference, and considering thematic connections. Hub organizers will be asked for feedback.
Hub organisers (including Graz) will draft their local hub programs, including virtual presentations in Rooms 2, and workshops, demonstrations, and symposia in Rooms 3. They will be asked to adhere to specific constraints, which will depend on the number of accepted abstracts, the number of hubs, and the number of available rooms at each hub. One possible constraint is that all presentations must be presented at all hubs. That may be feasible if the number of hubs is limited to three and everyone has sufficient room space and staff. Another possibility is that all presentations must be presented virtually in at least one other hub (or at least two). A third possibility is that presentations with higher reviewers' grades (assuming these are included in the list of accepted abstracts) should be presented virtually more often.
Authors may ask to have their talk presented at specific hubs, and participants may request specific virtual presentations at their hub. However, such requests may be difficult to fulfill.
Presenters will be asked to check the hub programs in the internet or Moodle and let us know if they spot a problem.
There will be special procedures for dealing with late cancelations and "no shows" in collaboration between hubs and central organisation.
For every virtual event in the program, a backup will have been decided in advance in case the hub stops transmitting. Such backups will also be decided in advance for live events in case of no show.
Meetings.

The conference will include the following meetings: opening and closing sessions, workshops and demonstrations, meetings of academic societies (SMPC, ESCOM etc.), and a meeting to discuss the innovations introduced to this conference. A meeting is a session in which rooms at different hubs interact on an equal level by teleconferencing (e.g. WebEx) rather than cloudcasting (e.g. YouTube). One person at one of the hubs is the chair and determines the order of speaking in the meeting. The chair will also organize a repetition of the meeting some 8-10 hours later so that all hubs can be included in spite of time differences. The discussion will be summarized by a secretary in a globally visible comment feed, as for regular talks. During these sessions, chairs and selected audience members will both see and hear each other as they communicate between hubs; other audience members will watch and listen. The display will include images of both audiences (using a single wide-angle webcam in each room) and individual speakers at the front desk, each with their own laptop. Only registered participants will have access to the meeting and comment feed. A video recording will be made and stored manually in the password-protected conference system.



Open space.

Toward the middle of the conference there may be an open-space style meeting, similar to a break but longer and more structured, in which anyone anywhere can start a discussion on any relevant topic. It could happen like this: Initially, people will communicate using only text messages, which will be organised and documented for all to see. They can then arrange to meet some other way e.g. skype. A list of topics may have been suggested in advance and people may be able to "enter" rooms with these labels and talk to whoever is inside. Alternatively, individuals may simply look for collaborators. Suggestions on software or procedures are welcome.



Posters

will be presented locally at each hub in the usual way. They will also appear in Moodle as pdfs. Participants will add comments in Moodle, and authors will add extra files such as sound files. All posters for the whole conference will also be presented as short videos: two minutes per poster (in Room 3, near the start, possibly looped; also available in Moodle).



Documentation.

Every presentation will be supplemented with written comments and discussion from diverse sources. Post-conference documentation will include a video and a written discussion for each presentation, as well as the abstract and (sometimes) proceedings texts. Presenters and first authors will be free to delete their video for any reason, or to delete inappropriate comments.

Time differences

The program at each hub will be divided into a morning session (e.g. 9am to 1pm local time, plus/minus one hour) and an evening session (e.g. 5pm to 9pm) with a siesta between. During morning sessions, events will be shared in real time with hubs toward the East; during evening sessions, toward the West. A 4-hour halfday session will typically be divided into a session of 90 minutes, a coffee break of 30 minutes and a session of 120 minutes. The siesta will be adhered to strictly, with no activities at all planned during this time. Hub organisers will be asked to rest during the siesta and have their main assistant take over.

Below is a preliminary sketch of a 24-hour program, showing only the times when hubs are active. The numbers in the top row are Coordinated Universal Time (UTC aka GMT) at the start of each hour. D is the time difference relative to UTC. The numbers in the body of the table are local time. The locations in the left column are arbitrary; only Graz, Montreal and Sydney have been confirmed.




This plan was created as follows.

Calculate the time at each location in July (summer time in the Northern Hemisphere) e.g. using the world clock meeting planner at timeanddate.com, checking the time in each location at GMT=0 to fill the left column (tiny font).
Adjust the timing of the three main hubs (red) so the morning session at one always corresponds exactly to the evening session at another, maximizing real-time sharing.
When adding extra hubs, ensure that

#Simultaneous

never falls below 2 to ensure that every talk can be watched in real time at a remote location. Occasionally,

#Simultaneous

should also be high, to maximize participation at meetings. As the 4-day plan develops, we will change the timing at each location from one day to the next to maximize participation at specific meetings.
Number of parallel streams.

Since hubs are only active for 1/3 of the time (8 hours out of 24), the average number of parallel streams is the number of hubs divided by 3. In the figure above there are 9 hubs and the average number of parallel streams is 3; this is the average value of #Simultaneous in the bottom row. So with 9 streams each hub can choose from 2 different live streams of average to present in Room 2. Fluctuations are no problem because hubs will also show videos that were recorded in the previous night or siesta. If there were 12 hubs, the average number of parallel streams would be 4 and this number could also be kept more constant if the hubs were more evenly spread around the globe. With only 3 hubs (marked red), it is possible to shift active times to ensure that at any one time there are either 2 or 0 hubs active, as shown in the figure.



Meetings of all hubs.

Global meetings will be coordinated by a chair and secretary located at a given hub. Meetings will generally happen twice with different participants - once in the morning at the coordinating hub with live participation of other hubs toward the East, and once in the evening with live participation of hubs toward the West. The first of the two meetings will begin with an introduction by the chair; the subsequent discussion will be summarized in writing by the secretary in a globally visible comment feed. The second meeting will begin with the same introduction followed by a summary of the results of the first meeting, and continue as before. Locally, a meeting might start anywhere between 9am and 8pm, so the daily program may have to be adjusted accordingly on that day. If there are only three hubs, the first session of a meeting will be a joint meeting of two hubs; later, the third hub will watch a video of that meeting and comment on it in the comment feed.



Skyping with presenters.

Presenters will have the opportunity to provide a Skype address for personal discussion on their Moodle page. Before the start of each halfday at the three main hubs (and simultaneously at the other hubs), half an hour will be set aside for presenters from the past 24 hours to talk individually to audience members. Other participants will be encouraged to return to their hub during these periods, e.g. for posters and coffee, to ensure that the main halfdays start on time.

Budget and registration

Presenters will submit an abstract to EasyChair. Observers (non-presenters) will register later using EventBrite. Both will be asked to register and pay by the early registration deadline by entering registration information on the Graz homepage and paying a registration fee direct to the hub that they plan to attend. The hub will inform Graz when the money is transferred. The fee will be the same (exchange rates permitting) across hubs in richer countries and cheaper at other locations.

Registration will cover conference attendance plus one invited speaker per (larger) hub, based on an initial estimate of numbers. An interesting model is a maximum fee of 4x (probably €60<x<€80) with three cumulative discounts of x each (for students, residents of low-income countries, and early registration) so the minimum possible fee is x. Remote active participants might pay half. Another option is a maximum fee of y+3x with y>x.

Each hub will apply for additional funding from local sources. If financial problems arise (e.g. from changes in estimated participant numbers), one hub may transfer part of their registration income to another. The budget at a larger hub (Sydney or Montreal) might look something like the following very rough estimate (in Euros).



Income


Average registration fee of 150 Euros from 100 participants 15 000
Sponsors: local government, university, publishers, other 5000
Total 20 000



Expenses


Room reservation 5000
Coffee breaks and food 3000
Contracts for technical and other assistants 3000
Equipment 2000
Keynote speaker 2000
Printing, communications, t-shirts 1000
Insurance 1000
Bank fees, paypal, petty cash 1000
Concert 1000
Donations to climate-friendly organisations 1000
Total 20 000

The size of the budget will depend on the number of participants at the hub in question, which will become clear gradually: first by the number of submissions in which the intended hub is indicated, second by the number of acceptances at that hub, and third by the number of early registrations at that hub. Each time, the budget may have to be revised.

This schematic budget does not include the banquet, which should be self-funding at each hub (a separate payment would cover it, unless local government or another sponsor donates the cost).

The budget in Graz will be much larger, because we are financing assistants to manage the peer-review procedure and carry out other administrative tasks, and we will provide 24-hour technical support during the conference.

Regarding funding in Graz, our environmental focus has made it easier to attract support that will ultimately reduce registration fees. We already have 7600 Euros from local government (Land Steiermark). They may have been generous because of their strong environmental focus and the promised emissions reduction. Since so few conference organisers are claiming to do this, we have little competition. I have asked whether it is possible to transfer some of this money to other hubs. Apparently it is possible but the exact conditions are still to be clarified. My research centre can provide 4000 Euros for technical assistance, and I can count on strong assistance from Uni Graz due to the environmental focus; the Department of Resources has already suggested additional funded personnel. The goals of inclusion, interculturality and technofriendliness, and the idea that this conference may serve as a model for conferences in other disciplines, could help us attract further funding.

Legal issues



Content rights



The intention of the conference organisers is that copyright holders of abstracts, proceedings contributions, live streams, and videos are the authors only. Neither conference organisers (including the ICMPC and ESCOM) nor the hub venues (e.g. the universities at which hubs are held) should hold any rights to conference content.

However, we cannot guarantee in advance that it will be like this. The universities at our hubs may have their own special requirements and we may have to negotiate with them.

In such negotiations we will argue like this: To our knowledge, no-one ever made any money out of publishing conference proceedings in music psychology. So it probably doesn't matter if one of our hub universities insists on rights to content for participants who present live at their university. We should just do what each university considers normal. It should not be a problem for us if the legal foundations for the conference are different for different hubs.

Creative commons may be an alternative - but we have not yet made arrangements of that kind. In any case the simplest solution should be preferred. We would prefer to spend our time talking about content than legal arrangements.



Password protection



Abstracts and proceedings contributions will be publicly available as at previous ICMPCs. Live streams, videos and comment streams will be password protected and only available to registered conference participants.

The conference organisation will not be able to prevent live streams, videos or comment streams from being transferred to the public domain. Consider the following scenario: A conference participant sends links to her live stream and video to a friend, who is genuinely interested and supportive. That friend then puts the link on her homepage, thinking that the authors will like the publicity. After that, someone else downloads the video and puts it in the internet - on a server in another country. Requests to have the video deleted are ignored.

The conference organisers will ask registered participants not to forward links to anyone unless one of the authors has already published the link on their own homepage. Every group of authors will have the right to publish their own links provided all authors agree. This decision must be made internally within the group and has nothing to do with the conference organisation. But the conference organisation cannot guarantee that this guideline will be respected. We cannot therefore be held responsible for any problem arising from unauthorized publication of conference materials. Nor can any conference participant be held responsible. All participants should therefore be prepared for the possibility that their live stream, video or comment stream will end up in the public domain.

We will ask all active participants to agree to this in writing before their work is accepted for the program. First authors will sign non behalf of the other authors.

Guidelines for hub organizers

Hub organisers will fulfill the following criteria: relevant PhD, relevant publications in recognized peer-reviewed journals, experience of active participation at relevant peer-review conferences, appropriate institutional connection at the hub location, and intrinsic motivation to achieve the aims of the conference as listed above.

Things to do first:

1. Check the internet. Check internet speed in the rooms themselves where the conference will take place and at different times of day and different times of year, e.g. using speedtest.net. Internet speed should always exceed 50 MBit/second; 100 is preferable. The presentation rooms will mainly need a standard computer and data projector; live streaming is also possible using standard laptops, tablets or even smartphones.

2. Check the sound quality. It should sound good and clear for both speech and music and at both low and high sound levels. If you have any doubt, ask a technician to check whether the problem is the speakers or the amplifierm found out how much it costs to fix and talk to the institution about the money.

3. Book the lecture rooms. As a minimum you will need three, called Rooms 1, 2 and 3. Larger hubs may need as many as 7 rooms: 1a, 1b, 2a, 2b, 2c, 3a, 3b. Everyone will need a central space for breaks and posters.

4. Prepare a preliminary budget, and approach your institutional administration to ensure their support for the project.

Viability criterion: The number of abstract submissions that are accepted as talks at the hub should be enough for a full day of talks in Room 1. In general, smaller hubs may have shorter duration than larger hubs (e.g. 1, 2 or 3 days, staggered across the global program). If the viability criterion is not fulfilled, the hub may be converted to a passive meeting, which is a less formal meeting of local colleagues to view selected presentations. Participants at passive meetings cannot give talks but they can participate in discussions, sending questions and comments.

Organising a non-central hub may seem like a lot of work, but it will be much easier than organizing a regional conference in music psychology, because you will not have to organise the peer review procedure or create the main program. The amount of work will depend mainly on the number of participants at your hub. This number will become clear gradually as participants announce their intentions at abstract submission, acceptance and registration.

You will be responsible for making sure that everything is working and has been properly tested well before the conference and again during the hour before the start of each halfday. Before the conference, we will work with you to develop detailed procedures for trouble-shooting, with the aim of never having to use them, and you will be responsible for applying these procedures should they become necessary. We will also communicate directly with your technical assistants to help you solve any unexpected problems.

Each hub will need a support team. As a rough guide, you will need:

An assistant (e.g. PhD student) who can take over from you in case you are ill. This person will share your work. During the conference, s/he will be on duty during the siestas while you have a well-earned rest. (Enter the costs to a budget draft and check whether registration can cover it.)
A colleague in the accounts office of your university who will reliably answer questions about registration and the management of your accounts.
A local secretary or office manager (e.g. in your academic department) to help manage finances and organise food, entertainment, security, keys to the building on weekends, air conditioning, room bookings and so on.
An experienced technician who can share responsibility for any technical problem at your hub before or during the conference. Please contact colleagues in your university as soon as possible to find out if support of this kind is available without extra budget, and then try to book it in advance. Otherwise, include funding in your budget. Meet and talk to this person about the details well in advance and ask her or him to carefully read our technical guidelines and give us some feedback, to ensure you can work well together.
A senior student to run the student support team (e.g. a Master's student). A likeable, sociable, reliable person who is good at organising and will make sure that the students not only reliably support the speakers, but also enjoy themselves and give the conference a friendly atmosphere.
For each room: two student assistants, one technical (e.g. studying audio engineering, tonmeister, electroacoustics, or music technology) and one administrative (to make sure things run smoothly, e.g. studying music or psychology). For larger hubs, if you are booking two each of rooms 1-3 above, you will have 6 rooms and 12 assistants just for those rooms. You will also need three student assistants for registration, at least one of them with good technical skills.
You need to be able to rely on your main assistant, technician, and support team manager, so choose carefully!

Include food, drinks and presents for the student support team in the budget. Acknowledge their hard work, mentioning them all by name in the closing ceremony, giving them presents (budget for that), and listing their names on your conference homepage.

Workload for the central organisation

It is interesting to consider how the workload for the central organisation depends on the number of hubs. The following sketch shows the basic trends that we might expect based on the above planning principles.

The vertical axis is the total workload for the central organisation in arbitrary units. The horizontal axis is the number of participants.
The blue line is for a conventional conference in which international colleagues fly to a single location. The total workload increases roughly linearly as the number of participants increases. The line does not go through the origin, because the organisational load is significant even for a few participants. The workload for 200 participants is less than twice the workload for 100; for the purpose of argument we can assume that it is 50% bigger.
The orange line is for the semi-virtual, globally distributed conference described in this document, with the following simplifying assumptions: (i) the hubs are equal in size with 100 people at each; (ii) the first two hubs are globally very distant with a time difference of 8-10 hours (e.g. Graz and Sydney); and (iii) the first three hubs are almost equally spaced around the globe (e.g. Graz, Sydney, and Montreal).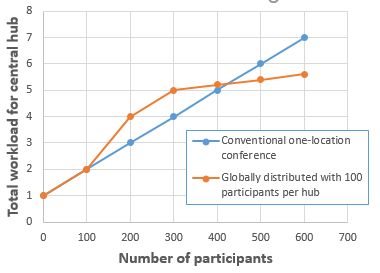 Consider the 200 mark on the horizontal axis. For the orange line, this means two hubs. At this point, the orange line is higher than the blue line, because of the work involved in setting up the communication technology - especially for the first time. The orange line continues to rise between the 2- and 3-hub solution (200 to 300 participants) because of the additional difficulty of organising meetings with three or more hubs spaced around the globe: the solution explained elsewhere in this document is to schedule each meeting twice.

Moving to the 300 and 400 mark, as the number of hubs increases from 3 to 4, the orange line approaches the blue line. From this point onward, the organisational load for the central organiser in the multi-hub conference grows relatively slowly. All hubs use the same guideline and are independently responsible for ensuring that the program is realised and all their talks are streamed to the cloud. The extra work involved in looking after extra participants is now mainly delegated to the other hubs.

In summary: from the perspective of the main hub, it is easier to organise a large semi-virtual conference with several globally distributed hubs than to invite the same number of colleagues to a conventional conference (assuming that those colleagues could afford the total cost of travel, registration and accommodation).

Trouble shooting

A funded, technically qualified student assistant with Master's degrees in Musicology at the University of Graz and Elektrotechnik-Toningenieur at Graz University of Technology is currently working on the technical possibilities. Closer to the conference, he will train a team of student assistants including three similarly qualified personnel who will provide technical support round the clock during the conference.

There will be a pilot conference in April 2017 to test the technology. If after that if we are not satisfied that the risk of breakdown is minimal, we will schedule another pilot.

If the internet collapses, each hub will be reduced to local live presentations and available prerecorded videos. The same applies if YouTube collapses, assuming we use YouTube as the cloud. Presumably this has never happened before, but it is not impossible.

Apart from that, the risks are minimal. All hubs will be technologically independent. Each will live-stream presentations to the (YouTube) cloud and take other presentations from the cloud. If there is a problem in one hub, it will not affect the others. Problems can be solved before morning sessions, during the siesta, or after the evening sessions.

For every virtual presentation in the program, a backup will have been determined in advance in case transmission is interrupted. Beyond that, there will be prerecorded videos as additional backups. The same applies for live presentations: if a presenter doesn't show up, the live presentation will be replaced by a virtual one.

In the unlikely event that there is a serious problem in two hubs simultaneously, technical support in Graz may help one hub at a time, starting with the larger hub. Each hub will have its own technical support so in this unlikely scenario the smaller hub will be working independently to solve its problem while Graz is helping the larger hub. In any other active hubs (each hub is active for 8 hours per day), the conference will proceed normally, with missing virtual presentations replaced by backups.



Evaluation and follow-up



During and after the conference there will be a thorough evaluation. While the usual points will be addressed, the focus will be on evaluating the semi-virtual globally distributed format. Participants will be asked to evaluate a series of points relative to comparable conventional conferences that they attended in the past: the overall experience; how they felt during the conference, both emotionally and creatively; how many interesting personal contacts they made, both at the local hub and at other hubs; how much they learned about current relevant research; whether they think the new format will promote quality, quantity and relevance of research in our discipline more or less than the traditional format; which aspects should be maintained for future conferences and which should be dropped or changed; if they have specific suggestions; and so on.

We will also estimate the total carbon footprint of the conference, both absolutely and per participant, and compare it to other conferences. An interesting possibly is to estimate the total yearly carbon footprint of participants and the extent to which this kind of conference is likely to change it.

The organizers of the following conferences in the series (ICMPC16, planned for 2020, and ESCOM11, planned for 2021) and the corresponding committees will have full access to all aspects of the evaluation. They will be free to accept or reject any of the new measures introduced for ICMPC15-ESCOM10, or any other recommendation that we may make.

Colleagues from other disciplines may be inspired by ICMPC15-ESCOM10 and ideas from this page may be shared with such colleagues at any time before or after ICMPC15-ESCOM10. Both larger and smaller conferences may be inspired by our approach.

Tentative timeline

Preliminary announcement and conference webpage: February 2017
Pilot mini-conference: April 2017
Call for papers (announcing keynotes): May 2017
Deadline for preliminary abstract submissions: 1 November 2017


Submission deadline for abstract submissions: 15 December 2017


Award application deadline: 15 December 2017

Acceptance notification: 1 March 2018
Publication of titles of accepted abstracts: 1 March 2018
Call for symposia: 1 March 2018
Award notification: 15 March 2018
Deadline for symposium submissions: 30 March 2018
Symposium acceptance notification: 15 April 2018


Early registration deadline: 30 April 2018



First draft program: May 2018
Deadline for revised abstracts and proceedings: 31 May 2018*
Deadline for poster introduction mini-videos: 31 May 2018
Final feedback on revised abstracts, proceedings and mini-videos: 1 July 2018
Hub linkup and rehearsal: Early July 2018
Conference begins: 23 July 2018

---
The opinions expressed on this page are the authors' personal opinions.


Suggestions for improving or extending the content are welcome at parncutt@gmx.at.